Kitchens for Homeowners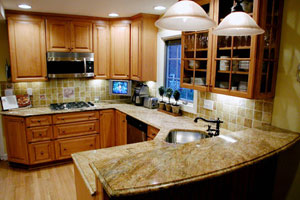 For most people, the kitchen is the hub of family gatherings and daily activities. So it's important that your new kitchen reflects your personal style and how you will use your space.
We begin by designing a kitchen that balances storage, workspace and gathering space to meet your lifestyle needs. We offer a wide range of kitchen cabinet styles and colors and countertops in laminate, granite, and quartz. There is something to fit everyone's taste and budget resulting in a kitchen that is all your own.
Studies show that more modest kitchen remodels have a bigger return on investment when it comes time to re-sell compared to higher dollar kitchen makeovers. Our average kitchen remodels are between $13,000 and $25,000 but we can accommodate any budget. Our goal is to create a kitchen that provides the right level of beauty, comfort and practical functionality that won't break the bank. And we finish each job quickly and efficiently.
Set up your free consultation today!