Kitchens for Homeowners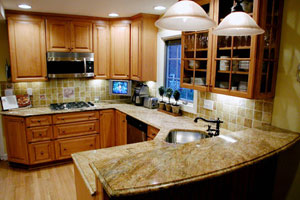 Kwik Kitchens has been helping our customers with kitchen remodeling ideas and designs in the Columbus and Central Ohio area for over 20 years. We offer a wide range of kitchen cabinet styles and colors, plus countertops in laminate, granite, and quartz to fit your specific budget and taste.
Our focus is with homeowners in the middle class with homes valued between $75,000 and $275,000. Our average kitchen remodels are between $13,000 and $25,000 with some falling under $10,000 and over $30,000. We finish each job quickly and efficiently.
For most people, the kitchen is the hub of family gatherings and daily activities. With that in mind, it is important to design, select, and install the cabinets and countertops that give your kitchen the right balance of beauty, comfort, and practical functionality.